The Meerkat method: Using stress to lose weight
By using the Meerkat method of stress control you could covert negative stress responses into postive stress responses.[*]
Step One: Understanding stress: Types of stress, Response to stress and The Effects of stress.
Understanding stress and stress responses
Claims about stress:
Stress causes early death[3]
* Over 50 percent of all health issues are directly related to stress.  [1][3] (Read more: Immune system and stress)
Stress causes over eating:
* Published clinical study results found that negative stress makes food taste less sweet [2] and positive stress increases the sweet taste in food. (When experiencing negative stress we may tend to eat overly sweet foods which may result in weight gain)
Types of stress
Primitive stress: Seeing a mouse, snake, spider or fear of death
Stress about events completely out of our control (News)
Dayly events like an unexpected phone call, or people making unrealistic demands from us or any one of thousands of stress triggers.
Time management, financial, work related stress, driving & traffic, family members health issues
Situational stress: Job interviews, public speaking
Chronic stress (ongoing stress, unresolved stress, stress ontop of stress and stress about stress)
Reactions to stress [3]
Sleepless nights, racing heart, butterflies, empty feeling on pit of stomache, sweaty palms, breathing, dry mouth
Direct effects of stress (Stress Hormones) [3]
* Stress triggers chemical responses in our bodies, mostly automatically, preparing for fight or flight.
* Stress hormones causes reactions in our bodies, making us temporary stronger in order to survive. In modern times our body reacts the same (primitive response), we are flooded with stress hormones whenever we feel stressed. For example when we are driving in traffic, when we experience financial stress or when your favourite sports team is playing a match.
* When we are under stress we cannot concentrate, we lose focus and we are even unable to do basic math.
* Too much emotional stress causes us to feel overwhelmed, inability to cope and that eveyrything is of control
* Too much stress and we lose control. Our primal brain takes over and we can have a breakdown or an emotional explosion.
Step Two:  Accept some basic truths:
Stress is a feeling, your body frequently asks your mind how you feel about something. If you tell yourself a different truth, your body learns a different reaction.[3]
When you become angry, you experience the same effects as stress. Becoming angry is a choice, it is your decision to become angry.
When you become excited or when you feel anxious , you experience the same effects as stress!
About Your Stress
Your stress is all about you, your reaction to how you feel (and how you feel is your own decision)
Step Three: Dealing with your stress
Traditional stress management tools include meditation, mindfulness and yoga [3]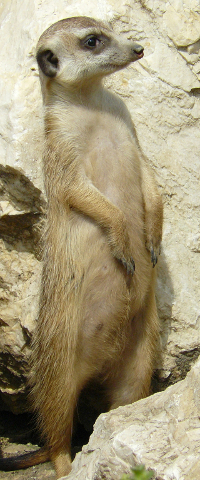 What exactly is the Meerkat method?
Changing your view – changing a negative to a positive
The Meerkat method uses physical posturing to help us to take control and to convert stress into excitement or into anger.
Stand or sit up as straight as you can, push out your chest and say out loud: I am Angry! or I am Excited!
Take control
(You can even bring your hands together, like a Meerkat, and say out loud: I AM ANGRY! or I AM EXCITED!)
Should not say: "I feel calm" or "I am Okay" – this may have no effect. You should say: I AM EXCITED! or I AM ANGRY!
You need to habitually convert anxiety into excitement or into anger.
The way we see ourselves becomes our reality. If we expect to struggle we will see struggle patterns throughout our day.
Mindset determines performance and our perception and view of ourselves determine our stress levels. [3]
More information about stress
Results of Acute stress or Constant stress: Cortisol over production, immune system lowered, stress on arteries, increased blood pressure, obesity, heart disease and depression. [3]
Too much focus on stress that you cannot escape or control (examples: News, Natural disasters)
Results: Everything simply becomes too much and your world can spin out of control.
Chronic stress requires lifestyle changes to reduce levels of cortisol (stress hormone) : Always eat breakfast, drink water throughout the day, be moderately active (walk the dog)
Stress and our Diet (Stress Eating):
Bad: Fast food, chips, deep fried chicken, chocolate, cakes, donuts, milkshakes
Good: All high GI foods. Berries and nuts
—
[*] The Meerkat method is a posturing method, as described in the clinical and research papers [3] [4]

[1] https://www.ncbi.nlm.nih.gov/pmc/articles/PMC3341916/
[2] https://www.ncbi.nlm.nih.gov/pmc/articles/PMC3240721/
[3] More publications and references:
++
[4] https://dash.harvard.edu/bitstream/handle/1/9547823/13-027.pdf
https://www.psychologytoday.com/blog/minding-the-body/201701/good-posture-may-ease-symptoms-depression
www.psy.ohio-state.edu/petty/documents/2009EJSPBrinolPettyWagner.pdf
https://www.ncbi.nlm.nih.gov/pubmed/25222091
Advertising

Always consult your medical doctor prior to starting any diet. To Lose Weight you have to consume fewer calories than your body burns.
---
All information provided for information & education purposes only. Nothing published on https://dietmy.com is intended as substitution for medical advice, diagnosis, or for any treatment.